Fish blanket
I have been working on this project for about half the time I've been knitting, and it's finally near completion.
The fish blanket is like a granny-square blanket, but with tesalating fish instead of squares.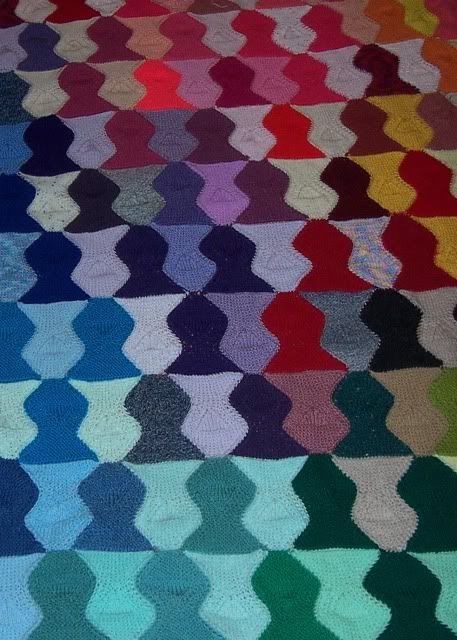 I did not go about this project in a sensible way. I found the pattern here and immediately thought it was a cute idea and thought I'd try knitting a fish to see how they came out, and did so on the first pair of needles that came to hand. After one fish I thought I'd knit another to see how well they actually tessellated. I think I knit four or five before deciding they were really cool and this was a project I really wanted to do. But by then I had four or five fish already knit on 5.5mm needles which I didn't want to waste, so continued doing this, without stopping to think that the end result was more open than I would like for a blanket.
I also had no grand plan. I had an idea it would be like a colour wheel, with the colours slowly blending into each other, but no real idea which colours were going to go where and what would blend into what, or how many fish wide or long it was going to be. It was fun laying all the pieces out and working out where they should go, but it wasn't the sensible way.
Googling the pattern suggests that a lot of people knitted this a few years ago (check out here, here and here, which I think is my favourite) and it was a great stash-busting exercise. For me it was the opposite. I started using my odds and ends, but as a relatively new knitter I quickly needed and wanted more. I had far too much fun on ebay buying lots of what were essentially other people's scraps, a huge amount of which I still have left.
As a result, most of the blanket is good old cheapy 100% acrylic, but there are odd bits of different stuff - there are a few cotton fish (which ended up a visibly different shape from the acrylic, and had to be yanked a bit to tessellate), at least one mohair (I knitted another but decided that I hate mohair a lot), a few that I think are blends but cannot be sure, and at least one that I'm sure was made of string.
The whole thing is 12 fish by 16 fish, meaning it will be finished when I have reached 196 fish. I haven't measured it properly, but it's roughly the size of my double bed, which makes it an absolute nightmare to photograph. It's size has meant the project went on the back burner for a bit because there is just nowhere in my student house where it can easily be laid out and sewn together.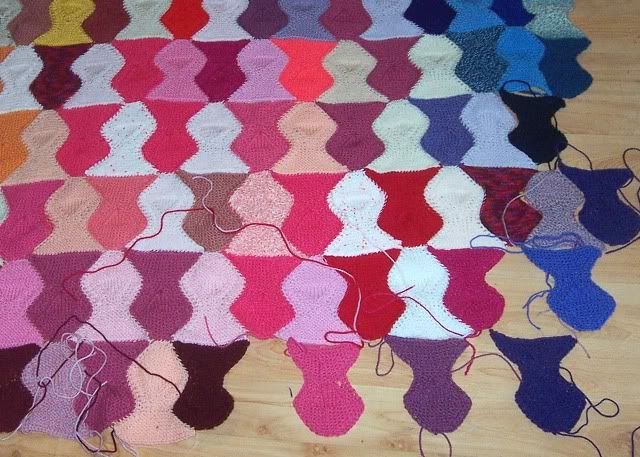 This shows the missing fish, and the ones that have been knit but haven't yet been sewn in. I have 10 to go. 10!
I've been working on it since July, and I still can't imagine it actually being finished, and yet I'm nearly there.